CONTACT US
500 16th Street Suite 10, Denver, CO 80202
Information Line: 303.260.6000
Management Office: 303.260.6001
Security: 720.570.6928
HOURS
GIFT CARDS
DENVER PAVILIONS GIFT CARDS
MAKE THE PERFECT GIFT!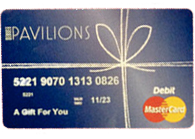 RECENT PRESS
Denver has a prominent new outlet for Colorado's statewide commemoration of the largest voting-rights expansion in US history. A brand new windowscape for the Women's Vote Centennial Colorado // 2020 is now on view at Denver Pavilions in upper downtown.