CONTACT US
500 16th Street Suite 10, Denver, CO 80202
Information Line: 303.260.6000
Management Office: 303.260.6001
Security: 720.570.6928
HOURS
GIFT CARDS
DENVER PAVILIONS GIFT CARDS
MAKE THE PERFECT GIFT!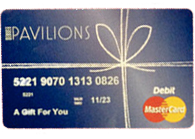 RECENT PRESS
Denver Pavilions great wall was lit up red to support #WeMakeEvents. An awareness campaign to help the struggling live event industry get back on its feet after being devastated by COVID-19. Learn more about it here.
You've probably heard the story of 6-year-old Bridger Walker, the Wyoming boy who protected his sister from a dog attack. The social media post showing the boy's scars went viral. Saturday, he was in Denver at IT'SUGAR Candy Store, where he got to go on a candy shopping spree.
5280 Burger Bar, Lime, Maggiano's and Hard Rock will allow patrons on the Glenarm Patio.